Today was definately nothing to write home about. Cancelations suck. Anyways, needed the time to fart about getting whatever is stuck in my eye out....Still havent managed.
Will be working on a kick ass t shirt design for local band DP which should be fun. 2 headed beast of sorts... will keep ya posted!
Here is the picture of the pirate monkey I designed soon to be inked.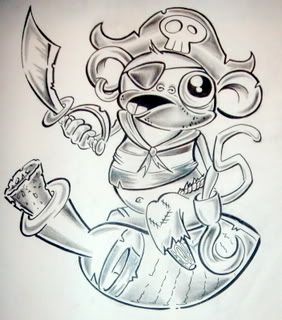 Also, a skeleton monkey in a fairly distressed state of affairs. He doesn't need feet, he's done. No arguing.