So i only put one pic on the computer before we left the studio today, so for all the mathamatical genius' out there.....that means i have one pic to post. i will definately try and post a few more tomorrow....not thurs. tomorrow is my day off. thank sweet jesus.
So my back's still shot to s@#t but i got like, 7 or 8 designs done today, so next design lined up is some sqiggly lines down a back (dont ask, i dont even know) and a white tiger which should have been done ages ago, but just got backlogged. (sorry!)
Here's a really fun piece i've been looking forward to doing ever since the guy e mailed me months ago from the U.S of A.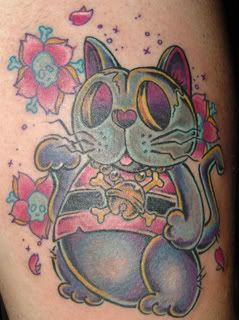 OK, so the sky is the same colour as the cats belly, it's 5:35am, and i am off to bed.