So i was fully booked again. did 4 pieces, didnt take any photos though, as i think my computer is overloaded with pictures at the moment, and i really need to sort through stuff before it completely gives up on me. for people waiting for cusom work, i've only taken a couple of bookings in the next few days, so i should have time kept aside to get some stuff designed. (i originally put the time aside to work on my skin and ink canvas' but i'm so swamped i've had ppl calling me asking when their designs will be done...... the list is getting longer and longer, and the future looks bleek! haha) i havent even started the canvas' and they are both due in in a few weeks, so i'll have to put some time aside to do them next week i guess.
Had a tattooist from China pop by the shop, and his work was pretty nice, so may be seeing more of him in the future. Oh speaking of which, we are welcoming our guest artist (Kevin Poon) back at the end of May for a few weeks. Anyone interested, come to the shop and make a booking, we have a portfolio of his work here so u can check out his work. Or you can visit the studio's website at www.scorpionstudiostattoo.com
Looking forward to having another artist back to lighten the workload to be honest!
For all of you who are confused by the title of this post, it's a long story. I was just having a conversation with my German friend about China....Food....and Chihuahuas. Need I say more?
Heres some more recent work.
(this one was on a friend of a friend from www.thehundreds.com)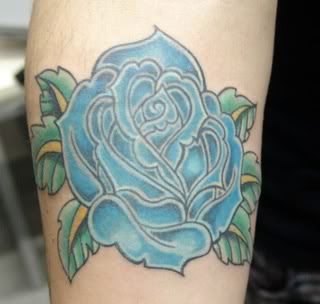 This one is a kick ass pirate ship with no other than Hong Kong as a background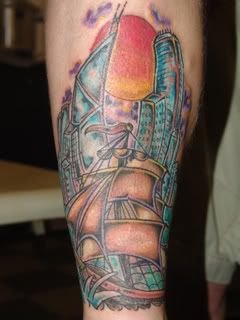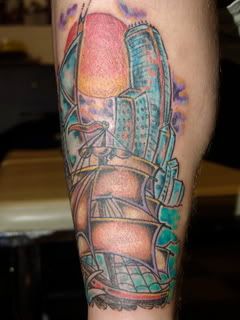 And here is one of the ......4?..... angel / religious pieces i am working on. (the red lines in the background are bloodlines, the wont be visable when it heals....so the sky in the background will look really soft, with contrasts in colout as the light rays filter through them) Glad I've got one outta the way, now I just need to design the rest!