So, even though i tried to have next to no tattoos booked in, i ended up doing 3 today, so didnt have much time left over to do desgns. got one ....well half of one, but it is for a huge knee to ankle sock piece, so half of that is like 3 tattoos!
think i only have one in tomorrow, so should get more done soon.
Had DP pop by to check out t shirt designs, and it seems like we got the go ahead. wont post a pic til i'm definate tho.
Getting loads of e mails from the navy who will be back in town at the end of the month, so i can see a few all nighters getting booked in. This time round they all seem to want pretty awesome stuff, so it'll be worth it in photos and tips i hope!
Good stuff, going off to watch a band now, so see ya peeps.
Here's a shark i painted for a poster for our 2yr anniversary which we are celebrating with DP, as it's their 1 yr anniversary. Should be an awesome gig. We will post the details on the studio blog closer to the date. Anyone on facebook who's joined the star crossed group should already have invites. Be there or be square!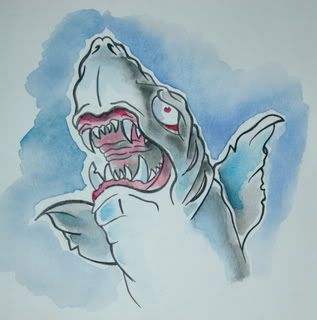 P.S Buster loves gummy bears. It's like chihuahua crack.