So it is the beautiful hour of 5.30 am, sun is coming up and i've been wrestling with photobucket tryin to at least upload a few pics so i can post SOMETHING up today....well now its tomorrow but you know what i mean.
So i aint got any of comeback kid ready for ya yet, but i have managed to get a few of the ones I took at the Banksy exhibit. Strange seeing his work in a gallery....not sure bout that, nice touch with the piece outside of the sheep flocking to the exhibition though......touche.
So heres a couple I got uploaded, there will be more where that came from.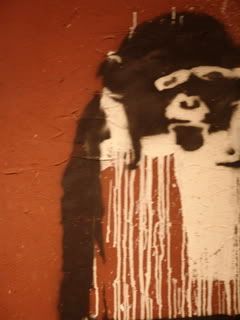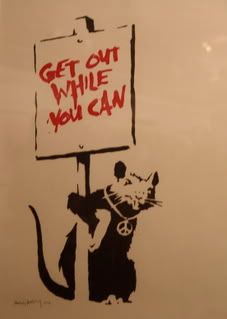 And heres a sweet little piece I did recently on a passer through. It was super teeny weenie, this guy had skinny wrists so I'm sure you can imagine how small it was. I was worried a tight 3 wouldnt be tight enough, and I really didnt wanna resort to a single, as I dont think it woulda' healed, but the 3 did me proud.
Finally I can get some ZZZZZ's.